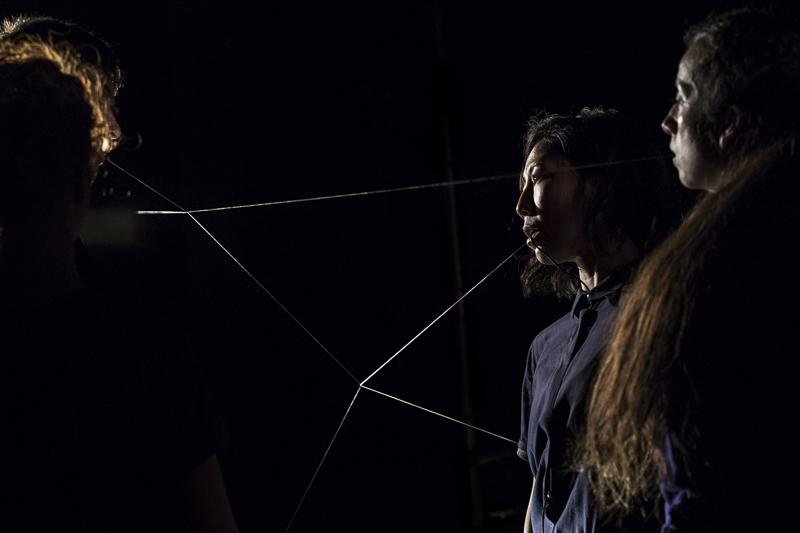 Hidden Architectures is a new interdisciplinary collaboration. An immersive performance, the work features an original live score composed for dancers, prepared electric guitars, and electronics.
Concept/ Choreography: Saffy Setohy with the performers
Composer : Jan Hendrickse
Costume/Set/LX/Tech Direction by MHz
Hidden Architectures explores the connections and social knots that we make as humans. Driven by the interconnectivity of sound, movement & materials, it asks: What does it mean to be connected? Do our connections constrain us or liberate us? Are we ever able to act independently of one another?
Hidden Architectures is performed by pairs of people, connected mouth-to-mouth by amplified, near-invisible threads which resonate as the people fall, trace, and carve through space.A weaving of movement, sound, materials, light and environment, in conversation with and transforming each other.

Credits

Prepared Guitar: Milo Taylor
Performers: Luke Birch, Misa Brzezicki, Lucy Boyes, Aya Kobayashi, Elizabeth Rawes, Gabriela Sanchez
Producer: Sam Eccles
Scenography/Technical Direction: MHzPrepared Guitar: Milo Taylor
Performers: Luke Birch, Misa Brzezicki, Lucy Boyes, Aya Kobayashi, Elizabeth Rawes, Gabriela Sanchez
Producer: Sam Eccles
Scenography/Technical Direction: MHz
Press
A review from Exeunt Magazine
Performances
Dance International Glasgow (Premiere 2017)

Dancelive/Sound festivals, Aberdeen

Greenwich Dance, London (part of London Festival of Architecture and Greenwich Dances)

Funded by
Creative Scotland through the Open Fund
Co commissioned by : Tramway, Science Gallery London
Supported by: The Work Room, Platform, SWG3, Lyth Arts Centre, Siobhan Davies Dance via the Dance Artist/Curator Mentorship Scheme, Trinity Laban, Greenwich Dance, Scottish Dance Theatre and Saltire Society